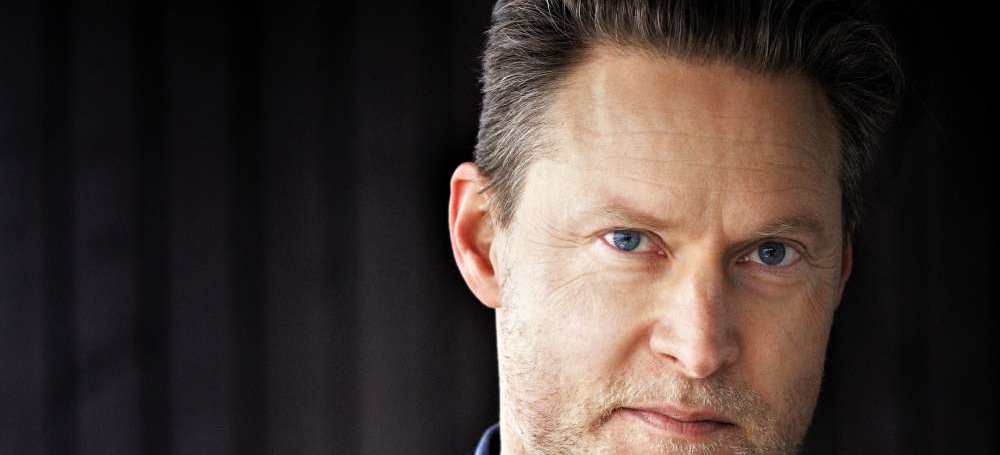 Denna användare har inte lagt till några uppgifter till sin profil ännu.
The first time I seriously started to consider the possibility of becoming an actor I was 32 and worked as a press spokesman at the Swedish Ministry for Foreign Affairs.
I had done a little acting in school and quite extensively so while attending the university. But with a degree in political science, economics and history, and after a year working as a reporter and news editor for radio and TV, I was employed by the Foreign Ministry. Among other things, stationed in Vienna and Helsinki, I engaged in international negotiations on military security. Back home again, in the year of 1992, working in the press department, I once a week attended an evening class on acting. This was more fun than anything else and it struck me that it possibly meant something.
In 1994, I therefore took a sabbatical year to attend a more thorough course on acting. I also trained privately and took various classes in Sweden and abroad, then got my first professional job and eventually took my leave from the ministry in 1997.
From there on, I have worked as a freelance actor in the realm of Theatre, film and TV and as a speaker voice in numerous productions. And the thought that continuous  to carry me forward is: "what is the most fun must seriously mean something".
For full CV, please visit www.henriknorman.se/resume Film (selection): Borg vs. Mcenroe (as Umperor) Tre Vänner Produktion, feature film (supporting) Clash of Empires (as General Lycius) KRU Productions, Malaysia, feature film (supporting) The Nihilists (as the man) Johannes Persson, short film * (lead) After School (as Peter) Gisela Nadasy, short film ** (lead) 7X/This is Our Kids (as Kenneth) First Edition Pictures, feature film (supporting) * Winner "Best Thriller Short Film" - Terror Film Festival 2014 ** Winner of "Award of Merit" - Indie Fest Film Awards 2016 Television (selection): Farang (as Victor) Eyeworks, series C More/Swedish Channel 4 (co-starring) Yuriko's Picture Book (as German spy) NHK (Japan's state television), TV-movie (supporting) The Inspector and the Sea (SWAT leader) Network Movie, series German TV (supporting) Kommissionen (Civil servant) Swedish Television Channel 1, series (supporting) Hotel Caesar (as a businessman) Norwegian Channel 2, series (co-starring) Rederiet (Pilot and Inspector) Swedish Television, Channel 1, series (supporting) When You Are Lärare (as deputy headmaster) Storstad/Rooster, web TV-series (co-starring) Plays (selection): The Dance of Death (by August Strindberg, as Kurt), Strindberg's Intimate Theatre, Stockholm The God of Carnage (by Yasmina Reza, as Alan), Theatre Brunnsgatan Fyra, Stockholm Miranda´s Tale (based on The Tempest by Shakespeare, as Prospero), The royal park of Haga, Stockholm The Seagull (by A. Chekhov, as Sorin), outdoor performance in Waxholm To Damaskus (by A. Strindberg, as the Doctor), Theatre Kaos, Stockholm Serenading Louie (by Nanford Wilson, as Carl), Sibyllegatan's Theatre, Stockholm Onda aningar ("Bad Omen" by Jan Käll, as Business Consultant Cederkvist), Theatre Brunnsgatan Fyra, Stockholm, Royal Dramatic Theatre, Stockholm
Teaterforum, classes arranged by the High School for Performing Arts, Stockholm Private lessons for Swedish actor and director Philip Zandén and filmdirector Jan Halldoff Acting classes Kulturama, Folkuniversitetet and Improvisationsteatern, Sthlm Workshops for (inter alia) Robert Lewis, Actors´Studio, Kristin Linklater, Royal Shakespeare Company, Jurij Alschitz, Russian Academy of Theatre, Jurij Lederman, Studio Lederman (Sthlm), Tom Fjordefalk, National Touring Company (Riksteatern, Sthlm) Song- and dance classes for a number of years and playing violin, guitarr and piano A Bachelor in Political Science, Economics, History and French (University of Lund and Uppsala)
Tyska, Engelska, Franska, Svenska
Jonas Tallroth Swedish Actors For Film and Drama/ Commercial Actors Agency Int. jonas@swedishactors.com jonas@commercialactors.com Tel. +46 703 808 171