Features and Shorts
We have won over 40 awards for our short and feature screenplays.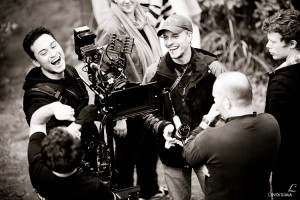 Our films have aired on American TV, in Times Square, at Grauman's Chinese Theater on The Hollywood Walk of Fame, before the Swedish Oscar submission at The Writer's Guild Theater in LA and at film festivals all over the world, from Beijing and Montevideo to Cannes. Four of those film festivals have been Oscar qualifying.
Our screenplays have won awards and have been featured at film festivals and in Variety.
Sinking is our first feature film, and is an American-Swedish co-production, produced by Hollywood producer Gudrun Giddings. It takes place in Stockholm and is written and directed by Hans Montelius. Sinking is about Mark, played by Lukas Loughran, who comes to Sweden to direct a movie but, instead sticks to video blogging and who sacrifices everything to satisfy their fans online. In this film, we have worked for a simple principle: everything from acting to the photo must be genuine.
"We do not content ourselves with the life we have in ourselves and in our own being; we desire to live an imaginary life in the mind of others, and for this purpose we endeavour to shine. We labour unceasingly to adorn and preserve this imaginary existance and neglect the real." – Blaise Pascal, 1660.
Visit our Facebook page for up to date information on what we are doing right now.